Archive for category Kayaking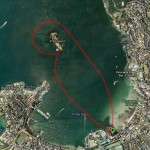 Hiring a double kayak from OzPaddle which we very quickly swapped for a more stable surf kayak to combat wind and chop.
We headed out from Rose Bay, around Shark Island and ashore briefly to enjoy the harbour views. Making our way back towards Point Piper following the foreshore around Lyne Park and back into Rose Bay.
It was tough going at times with the wind and spray off the waves, but loved every minute of it! Total distance 4.5 km.
Overcast and occasional showers. But no wind and calm waters. Perfect for kayaking from Drummoyne to Cockatoo Island with my cousin for lunch and exploration. Total distance 6.5km.

View Full Size