Posts Tagged Cycling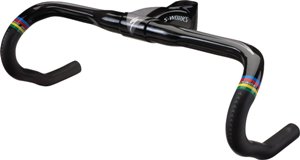 A 26km sprint to Cronulla for poached eggs at the Alley Break Cafe and fitting a new S-Works Barmac to my bestmate's Specialized Tarmac SL.
Ride time 45 mins.
Avg. speed 34.75 kmh. Max. 57.98 kmh
Avg. cadence 95 rpm. Max. 121 rpm
Temperature was a warm 19.8'C with a top of 23.9'C.
Total climb 235 m. Uphill distance 8.03 km. Climb time 16:27.
Avg. climb speed 29.44 kmh. Avg. incline 2%. Max 5%.
This will be my second time taking part in the MS Sydney to the Gong ride after a very enjoyable ride last year.

Am looking forward to completing the picturesque ride in 2½ hours but more importantly raising much needed funds to support those affected by MS.

This year I will be on a 2010 Cervélo S2, SRAM Red gruppo, Zipp 404 wheelset.

Please help me reach my goal of raising $500 by clicking Sponsor Me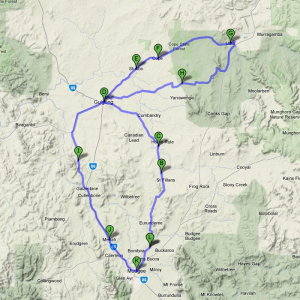 A/L – Vineyard Motor Inn
B – Henry Lawson Dr, St Fillans
C – Henry Lawson Dr, Home Rule
D – Gulgong
E – Cope Rd, Stubbo
F – Cope
G – Ulan
H – Spring Creek Rd, Yarrawonga
I – Guntawang Rd, Gallambine
J – Castlereagh Hwy, Menah
K – Market St, Mudgee
A/L – Vineyard Motor Inn
Trip Data
Ride time 3:55
Avg. Spd 30 kmh
Max. Spd 51 kmh
Avg. Cad. 93 rpm
Max. Cad. 108 rpm
Min. Temp 16.9'C
Max. Temp 30'C
Climb 842 m
Uphill Dist. 29.25 km
Uphill Time 1:10
Avg. Uphill Spd. 24.81 kmh
Avg. Uphill Grad. 2%
Max. Uphill Grad. 9%
Downhill Dist. 33.52 km
Downhill Time 54:59
Avg. Downhill Spd. 36.58 kmh
Avg. Downhill Grad. -2%
Max. Downhill Grad. -5%