Archive for category Mountain Biking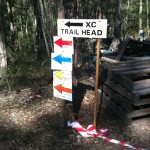 A 1.5 hour drive north of Sydney for 2 laps of the 10.2km Red Loop XC trail; A pre-run to next week's Spring Fat Tyre Festival.
The trail winds up and down through a mix of open grass land and rainforest. A few muddy sections with all the recent rain but otherwise in good condition.
The trail is very well built, relatively non-technical and features many bridges.
It took a little while to get re-initiated with the bike and re-gain confidence after 3 months of no mountain biking. Fortunately, no spills.
Was joined by my best mate, Jeeten and a number of fellow NobMob riders.